Hörprobe: The Jukes – This one is on me
Holá Amigos!
Hier eine kleine Hörprobe unseres ersten Albums!
Die vier kantigen Musiker der Band, haben mir , Pablo, die Ehre erwiesen ein paar Worte über das Album zu sagen.
Es wurde mir gestattet einen Part bei dem Song "The Traveler" einzusprechen, nachdem sie mich in einem Gitarren Koffer neben einer Flasche Tequila gefunden hatten. Es kam mir so vor als wäre ich nie woanders als in diesem Koffer gewesen, ich wartete dort eine halbe Ewigkeit um von einem Helden befreit zu werden, Ich freue mich sagen zu können, dass es nicht nur einer sondern vier Helden waren, die mich gefunden haben.
Als ich die Songs zum ersten mal hörte, verlor ich die Kontrolle, ich musste nicht, um es in den Worten von "Led Zeppelin" zu sagen, eine "Stariway to Heaven" erklimmen, ich befand mich bereits in einem verrückten Rockhimmel!
Manchmal wird eine epische Geschichte erzählt, untermalt von spanischen Klängen, das andere Mal überkommt mich eine Welle von unbändigem Headbanging, und wenn du glaubst es geht nicht mehr, schleicht eine weiche Rockballade um die Ecke, haut dich von den Socken und lässt dich einfach komplett abdriften.
Da ist dieser Blues, dieser Rock, diese Gitarren, diese Slaps, diese Stimmen, dieser treibende Rhythmus diese fliesenden Harmonien und noch so viel mehr zu entdecken, dass man seinen Ohren nichts anderes mehr antun möchte als das!
Erlebt es selbst, oder wie die Jungs das sagen würden,
Juke it !
.
.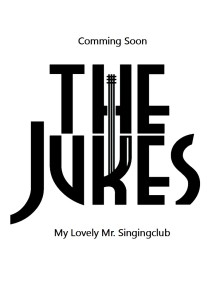 Holá Amigos!
The 4 young, crusty musicians of the band gave me, Pablo, the honor to say
some words about the album.
I was allowed to say a sentence in a song called "The Traveler", after they found
me in a guitar-case. It was like I've never been somewhere before, only in
this case, waiting for it to be opened up by a hero who'll save me… I'm so glad, that I
was found by 4 heroes!
When I listened to the LP the first time, I was totally out of control. I
didn't had to climb a stairway to heaven, because I was in
a wicked-rock-heaven.
Sometimes there is an epic story beeing told, underlined with a spanish touch, another time there is total freak out headbanging happening and when you think that you just reached the limit, there is a smooth rockballad sneaking around the corner, lifting you up from your feed and letting you sail away completly.
There is the Blues, and those Guitars, and these Slaps, this Voice, the rythmic groove and so much more to explore, that you dont want to do anything else to your ears but that!
Enjoy it, or like the guys would say….
Juke it !
.
.